Returning for a 5th year, local businesses, Farmer's Market vendors and community members have once again teamed up for this week-long community campaign to raise awareness and funds for the local SNAP (Supplemental Nutrition Assistance Program, the successor to Food Stamps) available at the Union Square Farmer's Market.
Since 2005, Union Square Main Streets (USMS) has raised funds to match SNAP dollars, allowing more eligible households to participate in their Farmers Market. Since 2020, demand for the Union Square Farmers Market SNAP Match has grown 218% as resilient residents continue to experience the devastating effects of the pandemic. Although life has started to return to normal, the lasting effects of the pandemic mean that food insecurity still affects many families.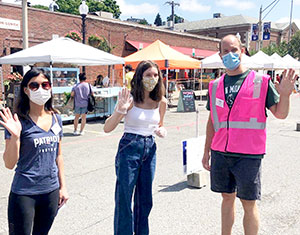 To support neighbors struggling with food security in Somerville, the USMS invites community members to come to the table to ensure everyone has access to fresh, local food, as the USMS serves this dramatically increased number of SNAP recipients at Union Square Farmers Market.
How it works?
Shop, dine or play at one of the participating local businesses between June 18-25

Buy their featured item or promotion (find details here)

Participating companies then pay the profits

Every Saturday at Union Square Farmers Market, SNAP customers get a dollar-for-dollar match, up to $15, for healthy, fresh, local foods
"Businesses, market vendors, individuals and Union Square sponsors who join this campaign are essential to maintaining a more inclusive Farmers' Market and telling the story of Union Square in Somerville," said Jessica Eshleman, Executive Director of Union Square Main Streets. . "This caliber of cross-community collaboration is a powerful example of our city's values ​​and what makes our neighborhood of businesses and people the place so many people love and where so many people want to be."
Direct donations to the USFM SNAP game at www.unionsquaremain.org are also encouraged to help reach this year's fundraising goal of $5,000. Donations are tax deductible and allow these results:
$15 = one SNAP match for one family

$60 = SNAP match for a family for a month

$150 = one SNAP match for every ten families

$500 = all SNAP matching funds needed for a typical Saturday Farmer's Market

$2,000 = SNAP matching funds should be needed for one month
One recipient shared how important the SNAP match is to him saying, "The match is so important because doubling up helps your perks go twice as far. Then you can get good fresh food, not what you find at the grocery store. The Union Square Farmers Market (USFM) is the most welcoming of the local markets for SNAP customers. Most vendors use SNAP, which shows just how committed USFM is to inclusivity.
Increasing their support, which makes such an impact possible, Rabbi James Kahn, Executive Director of Liberty Cannabis Cares, explained, "Liberty Cannabis is honored to continue supporting the Good Food For All campaign. Since opening our doors in 2018, we have been inspired by the community of Somerville and its commitment to living its values. Our dedication to making cannabis a force for good has led to partnerships with great local organizations like Union Square Main Streets. By working together, we can help keep Somerville strong, vibrant, inclusive and healthy.
USMS has provided more than $52,300 in matching SNAP payments to help thousands of people access fresh, high-quality, locally grown food since 2005, thanks to the generosity of Good Food For All participants.
Good Food For All is made possible by its 2022 Presenting Sponsor Liberty Cannabis as well as East Cambridge Savings Bank, Boynton Gateway, Union Leaf, Union 346 Apartments, Naveo Credit Union and donors who have already helped make the SNAP Match possible . The Union Square Farmers Market is made possible by the generous support of Boynton – Yards, a DLJ project and Leggat McCall, its 2022 season sponsor.
About Union Square Main Streets, Inc.:
Union Square Main Streets works to strengthen the vibrant neighborhood of businesses and people in Union Square. We take a four-part approach: promoting and celebrating its unique and fiery character; defend and help local businesses; working to create welcoming public spaces; and fostering connection and collaboration among various stakeholders and partners. More information is available at www.unionsquaremain.org.